what is happening to my musical sensibility....i'm starting to really enjoy almost
anything
that sounds new and inventive, and i can't tell if it's good or not, just that i enjoy it for being different. case-in-point:
the fiery furnaces
. mini operettas? how does this fit in with anything i've loved in the past? how?
how
? is this just a symptom of aging? maybe i've developed such a distaste for modern-day bubble-gum culture that different always equals good? i dont' want to be some sort of pedantic musical elitist (don't know what a musical elitist is? read practically any review from
pitchfork media
) that thinks something is good just because it's obscure and strange. is this positive evolution or regression? help me jerry, help me!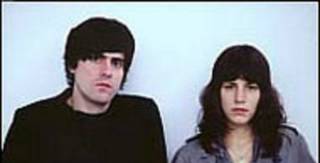 i guess what i'm really asking is whether or not anyone else likes the fiery furnaces.
album of the jour:
rachel goswell
waves are universal